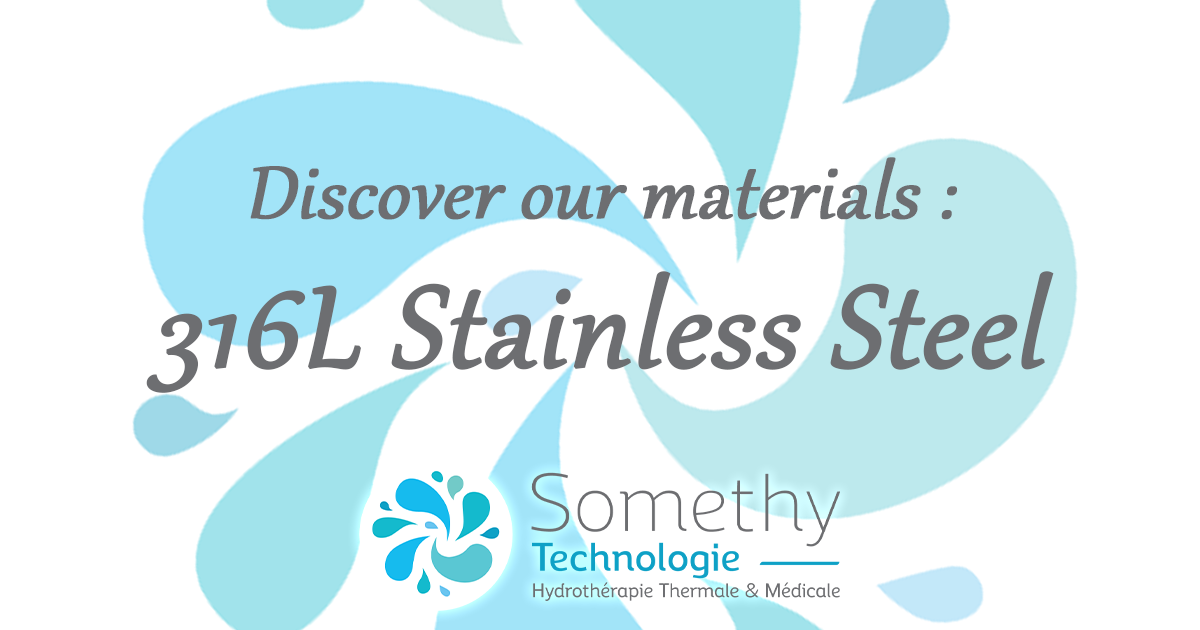 At SOMETHY TECHNOLOGIE, our priority is to produce and deliver, to the clients, products of quality. Indeed a product of quality goes with raw materials of quality.
For the sake of transparency, we are starting a serie of articles about the materials that we use in our factories.
This serie starts with the 316L Stainless Steel.
This alloy is used in the production of the following equipments :
Chassis of baths, technical array, holding arms etc.,
Pool accessories (Adjustable height floor, overflow channels, stairs, chairs, bubbling bench etc.),
Hydrotherapy equipment (affusion ramp, jet shower, thermal ovens etc.).
Its characteristics of exceptional strength make it the most suitable material for clean in place system (acid, lye, high temperature etc.).
No matter the type of water you use, the longevity and the sanitary quality of our products are ensured.
More precisely, the 316L Stainless Steel is an alloy of stainless steel very resistant to the corrosion. Thanks to its different components, it has a high strength to the corrosion in chlorinated environment but also sulphurous and saline.
Its homogenous microstructure gives its great manoeuvrability.
According several tests, it does not show any corrosion after an exposure of 200 hours to a salt mist, nor after an exposure of 48 hours to artificial sweat.
The 316L Stainless Steel is very used in several industries, such as the :
Transformation sector : equipments for chemical containers, transport units, heat exchangers and production of organic acids and fatty acids,
Maritime sector and shipbuilding : piping, pumps, valves, fittings and naval architecture,
Oil and gas sector : piping, valves, pumps, heat exchangers,
Mining sector : metal cloths,
Food sector : dairies.